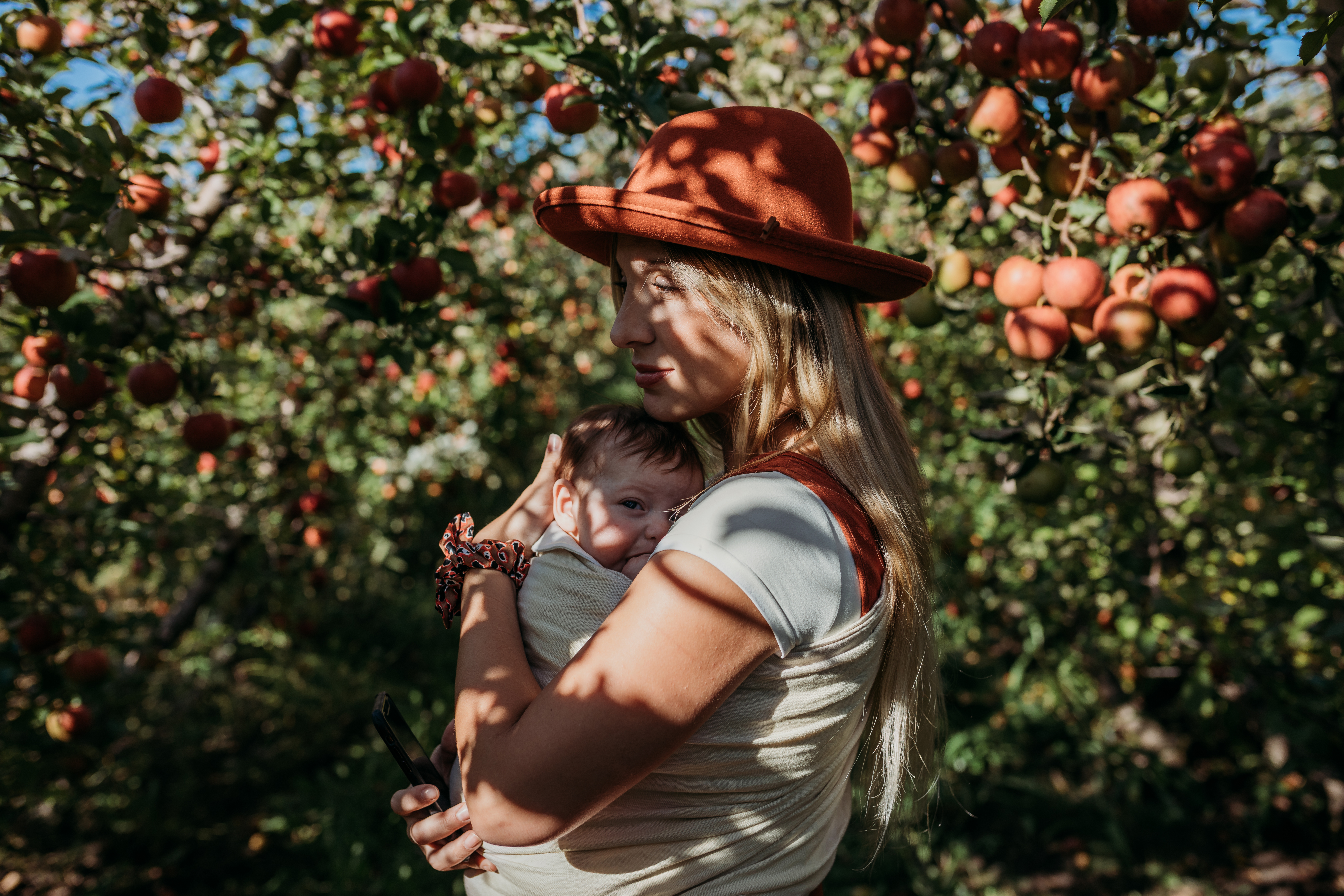 I went apple picking this week with my mom, my kiddos and my sister, who is a first time mom of my ultra adorable niece.
She knew I'd have my camera, (of course) so she picked out some cute outfits and made the drive out to the orchard.
We found the perfect spot, the lighting was full sun and creating tricky shadows but luckily we had some random cloud coverage to give us nice even lighting for some photos. This beautiful setting, on a gorgeous WI fall day and not a day we'd be able to repeat even if we tried, since she lives in California. It was perfect.
Then the baby just started screaming. She lost it y'all. So my sister sat down, right there and tried to nurse her – but no dice. So she stood up and sweetly talked to her with a melody to her voice – still not having it. She took her out of the baby wrap, nope. Put her back in, a little better but still, nope.
She checked her to make sure she wasn't too hot or too cold, she checked her diaper, she made sure nothing was poking her or bothering her skin…she did all the things moms of new little ones do when trying to navigate the stressful cries of their baby.
As she swayed and soothed the sun popped out from behind the clouds, our lighting was gone. My kids started to get restless, they were sick of waiting and therefore running around picking way too many apples like a bunch of wildlings. (BTW – if anyone needs apples, I bought them all and have way too much)
Finally the baby seemed to settle as she swayed back and forth, I looked at her and saw that exhausted mom look. You know the look – the one where you just stare off and think "thank god" while you try to regain your focus for whatever it was you were trying to do before the kid lost it. "That exhausted mom look"…you'd think by the way I just said that it would not be flattering. Yet, somehow it is. I looked at her and thought she looks so beautiful. Motherhood was beaming all over her, she was glowing.
So I just wanted to remind you all, that even in those moments you don't think are great, you glow.
You are beautiful. In all that exhaustion, when you you feel defeated, when you feel like the moment you just worked so hard for was ruined and you are wearing all those so called "imperfections"…you are still radiating. All that love pushes past and lights you up, even in the moments you aren't feeling perfect – you are glowing.
Those moments, though they may not feel like it, are the ones you will want to remember, they are the ones that will pull at your heart and the ones you love years from now. Years from now, those will be the photographs you treasure the most.
The moments when I get to see the real truths, that's when the beauty in you really shakes me. This is why my heart is and always will be in documentary photography. The real, the raw, the honest moments of life is where the real beauty lives.